Rupee fell to as much as 63.78 to dollar, breaching its previous low of 63.30. (AP)
The rupee slumped to a record low in early trade on Tuesday and bond yields hit another five-year high as Asia's third-largest economy bore the brunt of growing money flows out of emerging markets.
Cost of crashing currency: How a falling Indian rupee can hit costs, pay, jobs
The rupee slumped as much as 1.6 percent to 64.13 to the dollar, adding to its 2.3 percent rout on Monday, before traders said the RBI was seen stepping in to sell dollars.
Express Editorial: Credibility crunch
Markets are bracing for further losses, with 1-month non-deliverable forward trading at 64.71.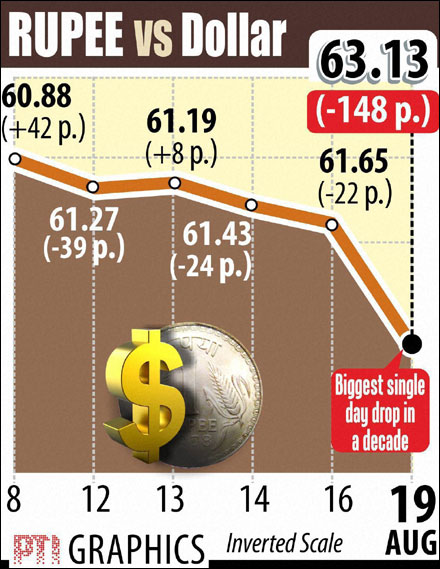 A spate of measures by the central bank and government has failed to halt the slide, with liquidity tightening measures aimed at making it harder to short the currency pushing up borrowing rates and battering corporate and investor sentiment.
Related: Nine steps India can take to prevent rupee slide
The BSE Sensex fell 1.2 percent to an 11-month low. JPMorgan downgraded Indian equities to "neutral" from "overweight", citing strain in the country's balance of payments, while Citi lowered its Sensex target to 18,900 from 20,800.
"India's problems are nowhere near resolution because New Delhi has not done anything – there is no focus on improving productivity, infrastructure or getting FDI (foreign direct investment) back," said Nomura credit analyst Pradeep Mohinani in Hong Kong.
"It's all about stemming the flow of currency and that is not the cause of the problem," he said.
Late on Monday, the Reserve Bank of India increased the foreign direct investment cap in asset reconstruction companies to 74 percent from 49 percent.
Earlier on Monday, India banned the duty-free import of flat-screen TVs from August 26.
… contd.
Please read our terms of use before posting comments
TERMS OF USE: The views expressed in comments published on indianexpress.com are those of the comment writer's alone. They do not represent the views or opinions of The Indian Express Group or its staff. Comments are automatically posted live; however, indianexpress.com reserves the right to take it down at any time. We also reserve the right not to publish comments that are abusive, obscene, inflammatory, derogatory or defamatory.