Judge Shyam Lal outlined 26 reasons for sentencing the Talwar couple to rigorous life imprisonment.
Of course there is no direct evidence but CBI has placed a "clinching wealth of circumstances" from which the guilt of Rajesh Talwar and his wife Nupur has been made out for murdering their daughter Aarushi and domestic help Hemraj, judge Shyam Lal said while outlining 26 reasons for sentencing the couple to rigorous life imprisonment.
"From the evidence as tendered by the prosecution in form of oral and documentary evidence this court reaches to the irresistible and impeccable conclusion that only the accused persons are responsible for committing this ghastly crimes as the following circumstances unerringly point towards the hypothesis of guilt of the accused," the 210-page order said.
While pointing out 26 circumstances leading to the conviction.
1. That irrefragably on the fateful night of May 15 and 16, 2008 both the accused were last seen with both the deceased in Flat No. L-32, Jalvayu Vihar at about 9.30 P.M. by Umesh Sharma, the driver of Rajesh Talwar;
2. That on the morning of May 16, 2008 at about 6.00 A.M. Aarushi was found murdered in her bed-room which was adjacent to the bedroom of the accused and there was only partition wall between two bed-rooms;
3. That the dead body of the servant Hemraj was found lying in the pool of blood on the terrace of flat no. L-32, Jalvayu Vihar on May 17, 2008 and the door of terrace was found locked from inside;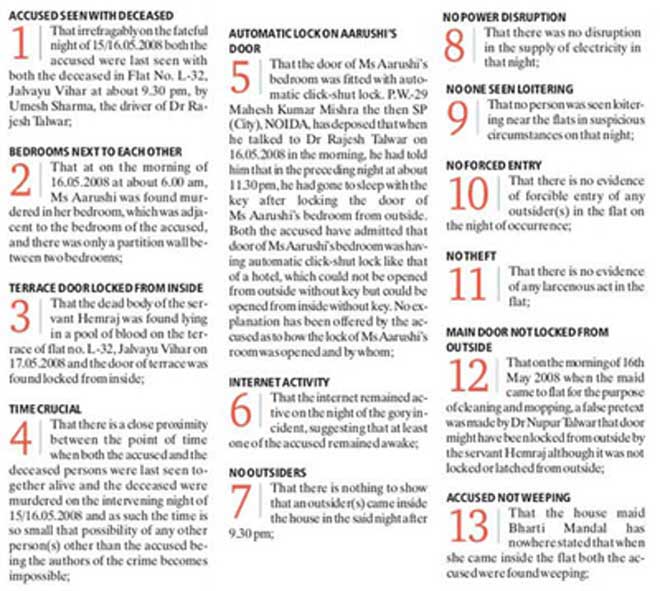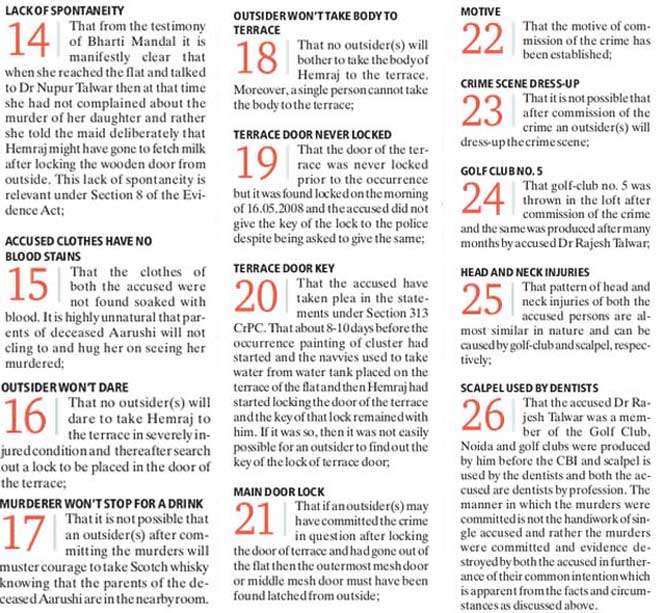 4. That there is a close proximity between the point of time when both the accused and the deceased persons were last seen together alive and the deceased were murdered in the intervening night of May 15 and 16, 2008 and as such the time is so small that possibility of any other person(s) other than the accused being the authors of the crime becomes impossible;
… contd.
Please read our terms of use before posting comments
TERMS OF USE: The views expressed in comments published on indianexpress.com are those of the comment writer's alone. They do not represent the views or opinions of The Indian Express Group or its staff. Comments are automatically posted live; however, indianexpress.com reserves the right to take it down at any time. We also reserve the right not to publish comments that are abusive, obscene, inflammatory, derogatory or defamatory.