I am trying to keep the government interference in CSR activities to the minimum. (IE Photo: Amit Chakravarty)
At a recent Express Adda held in Mumbai, Sachin Pilot, Union Minister of State for Corporate Affairs, in conversation with Shekhar Gupta, Editor-in-Chief, The Express Group, spoke about the new Companies Act, contesting elections and Rahul Gandhi's ordinance outburst.
On the Mumbai-Delhi disconnect
I think Mumbai has a special character. The word I would use is not 'disconnect,' but a 'separate identity.' Mumbai has a flavour which Delhi unfortunately doesn't, but Delhi is the seat of power. But increasingly, I think, the distance is getting less because India has changed as a country. Mumbai and other cities have played a phenomenal role. The mindsets have changed. Thirty years ago, profit was seen as evil…not something that was encouraged. Today, India has changed. We need to create wealth, we need to invest, we need to create job opportunities, we need to have the government and corporate sector help each other reach the ultimate goal — which is to make our economy strong and our country a vibrant nation. It has to be a collaborative effort.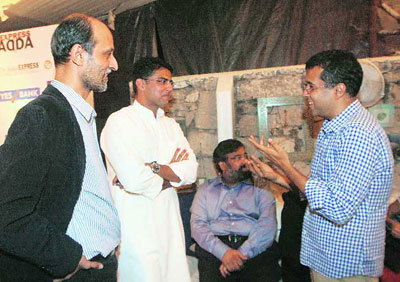 On the rough and tumble of elections
I've fought two elections. God has been kind because I've won those two. Fighting elections and winning them is a whole different strategy and a whole different world; because sometimes it is not logical. There are other external circumstances that overtake what you think should be the logical response of people. I happen to represent Ajmer which is, for me, a very new constituency. I went to fight elections in 2009, and in that particular constituency, the BJP won seven times in a row. I don't know what inspired me to do it, but I went there and I asked my party to contest that election. Fighting election on party symbols, convincing voters to vote for you, it's not what it seems. People think politicians land in helicopters, wave their hands, give a 10-minute speech and go away. It doesn't work like that. You have to be involved in the lives of people.
… contd.
Please read our terms of use before posting comments
TERMS OF USE: The views expressed in comments published on indianexpress.com are those of the comment writer's alone. They do not represent the views or opinions of The Indian Express Group or its staff. Comments are automatically posted live; however, indianexpress.com reserves the right to take it down at any time. We also reserve the right not to publish comments that are abusive, obscene, inflammatory, derogatory or defamatory.