The monorail is coming to India for the first time, though two years late. (Express Photo: Pradeep Kochrekar)
For the past few months, a pink, blue and green structure resembling a metallic caterpillar has been zipping overhead of narrow roads, decaying slums and mangroves in Wadala and Chembur. Cars have been halting to take a picture, people in high-rises staring at it from their balconies, and children in slums underneath egging it on it with cries and outstretched arms.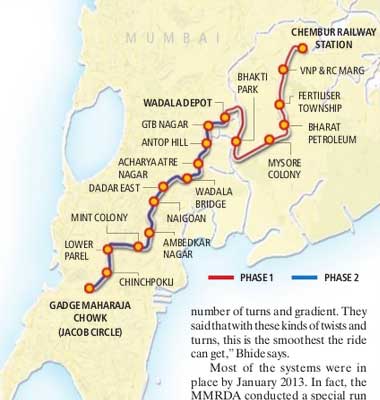 The monorail, a mass transit system few countries have, is coming to India for the first time, though two years late.
Five years after construction started, Mumbai's development authority MMRDA is set to open the first phase to the public in January. Of the 19.5-km corridor from Chembur to Jacob Circle in Byculla, the first phase will run 8.8 kilometres until Wadala. The completed route will be the world's second longest, after the one in Japan's Osaka.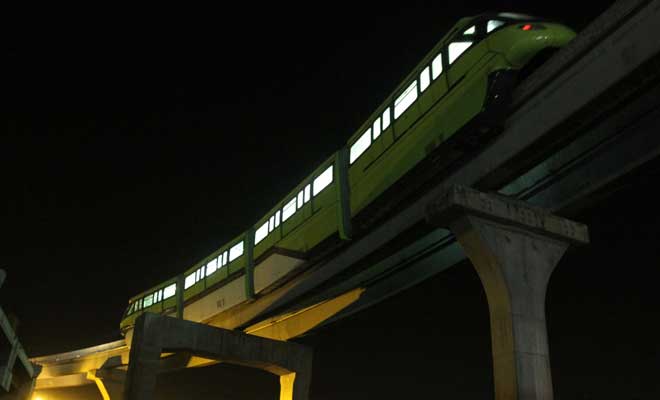 "We have achieved more than 90 per cent reliability," says Ashwini Bhide, additional metropolitan commissioner with the MMRDA. "However, before the monorail is ready for commissioning, we need to reach a reliability level close to 100 per cent for 15 continuous days. We have been able to do that for about 10 days now."
A few others steps remain. Documentation is involved in the handover from the project team to operations and maintenance, something Bhide hopes to complete over the next few days. The project also needs final safety clearance from a former commissioner of railways; a senior official says it won't get that until the opening rules are published. "The draft rules are published but the final rules have to be notified. The file is with the chief minister's office," the official says. The commercial rules are currently in the public domain for suggestions and objections, but their publication is not mandatory for final safety clearance.
… contd.
Please read our terms of use before posting comments
TERMS OF USE: The views expressed in comments published on indianexpress.com are those of the comment writer's alone. They do not represent the views or opinions of The Indian Express Group or its staff. Comments are automatically posted live; however, indianexpress.com reserves the right to take it down at any time. We also reserve the right not to publish comments that are abusive, obscene, inflammatory, derogatory or defamatory.